MENE TEKEL
International festival against totalitarianism, evil and violence, for the memory of the nation Mene Tekel.
ROYAL PROCESSION FROM PRAGUE CASTLE TO KARLŠTEJN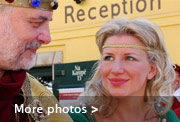 Each year in June a unique event took place in Prague . The government renewed a tradition from the 14th century when our king, Charles IV. was bringing the crown jewels from the St. Vit Cathedral/ Prague Castle to Karlstejn ... When the crown jewels are blessed by the bishop in Prague Castle, the 2 days journey can begin, with 30 thousands people on the way... A unique opportunity to make alive a part of our history we still can learn from, to talk from heart to heart . Our country was often called the heart of Europe ... And the HEART at least exceptionally led our people to the fight for truth that has set us free, in contrary when we were led only by hatred and self-profit, our nation lost all of its power and fell as if in a longtime sleep... may God and our heart lead us again...
Empress Elizabeth - Debora Stolbova, Charles IV. - Vladimir Cech
Kosmopolis
A short documentary in Czech tv about Deborah's grandmother and the three generations of actresses.